Description
Tasty homemade curd
Make Life Convertible
Works longer for less
Digital Inverter Technology
Twin Cooling Plus™
Tasty homemade curd
Curd Maestro™
The world's first Frost Free Refrigerator that makes fresh curd and preserves it too. It is not only convenient but also eliminates all the hassle of curd making in different weather conditions. What's more! It makes curd with the same consistency, every time.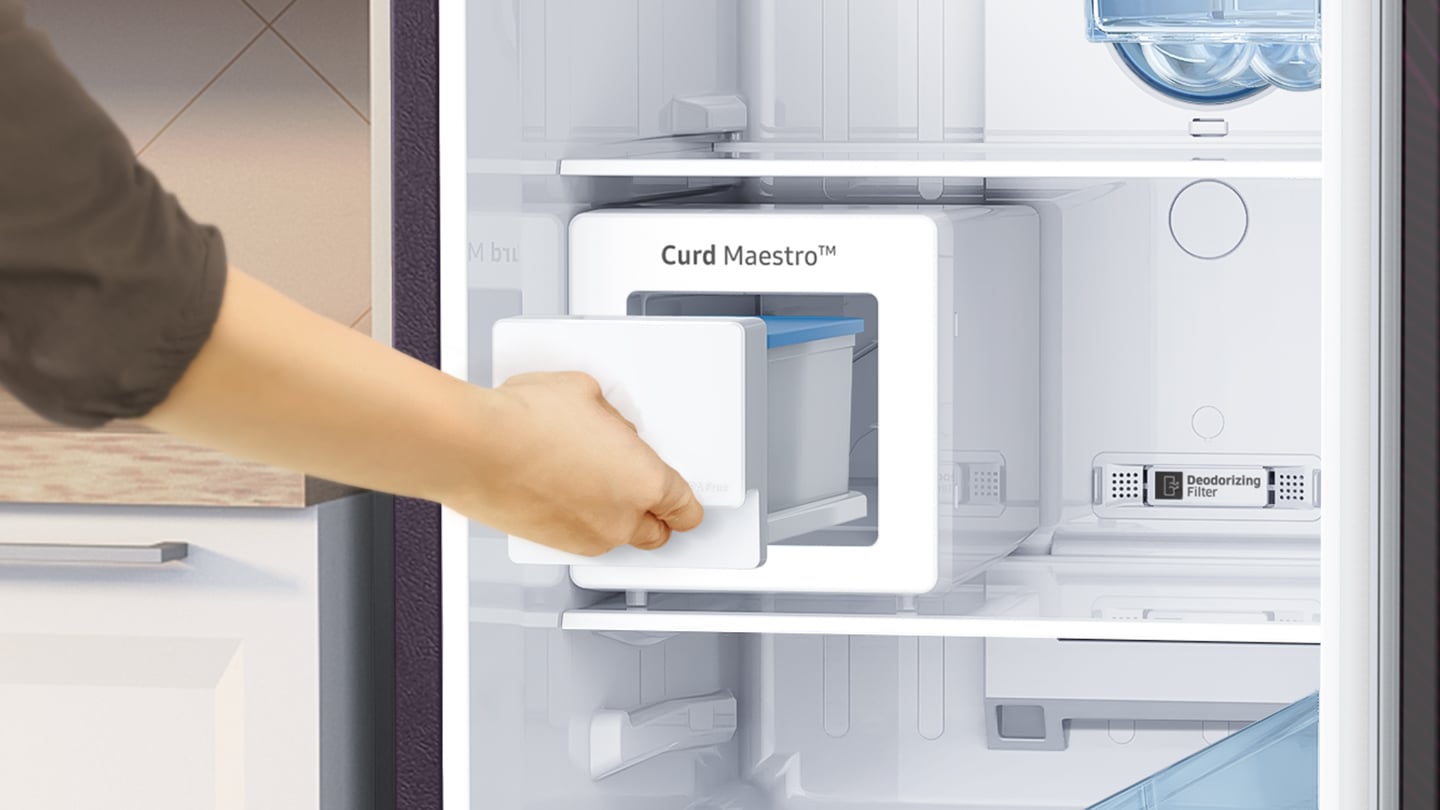 Make Life Convertible
Convertible 5in1
Our Convertible 5in1 Refrigerators understand your life. Powered by the revolutionary Twin Cooling Plus™ Technology, this refrigerator has 5 conversion modes to take care of all your refrigeration needs.

Works longer for less
Digital Inverter Technology
Enjoy greater energy efficiency, less noise and a long-lasting performance. The Digital Inverter Compressor automatically adjusts its speed in response to cooling demand. So it's quieter, uses up to 50% less power* and is certified to work for 21 years**, backed up by a 10 year warranty***.
* Based on internal testing comparing energy consumption (ISO 15502) between Samsung conventional model RT43K6**5(6)** and RT54E****** Awarded a 21 year durability certification by the Association for Electrical, Electronic & Information Technologies in Germany (Verband Deutscher Elektrotechniker – VDE). Actual lifespan may vary depending on the usage circumstances.*** 10 year warranty is limited to the compressor only.
2x longer freshness
Twin Cooling Plus™
Ensure your food stays fresh for twice as long*. Twin Cooling Plus™ preserves food in the optimal conditions by maintaining a humidity level of up to 70% in the fridge, compared to just 30% in a conventional TMF. So perishable food stays moist and fresh for longer, which helps to reduce waste.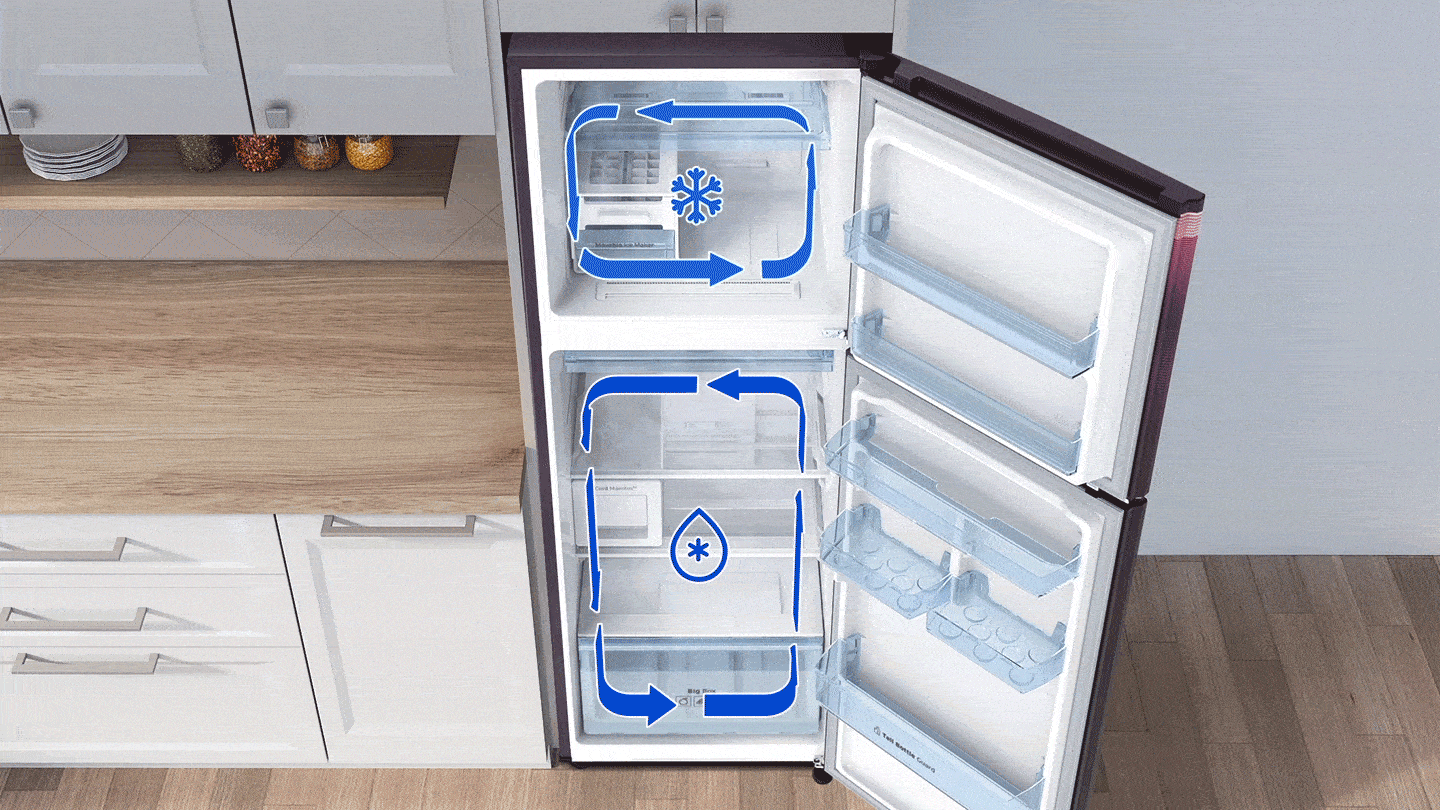 * Based on independent testing by Intertek compared with a conventional cooling system.
Voltage protection
Stabilizer Free Operation
Protect the refrigerator from power fluctuations*. The Stabilizer Free Operation keeps it working steadily and reliably. If the voltage increases too much it automatically cuts the power to prevent electrical damage. The compressor even operates at 50°C. So you don't need a separate stabilizer.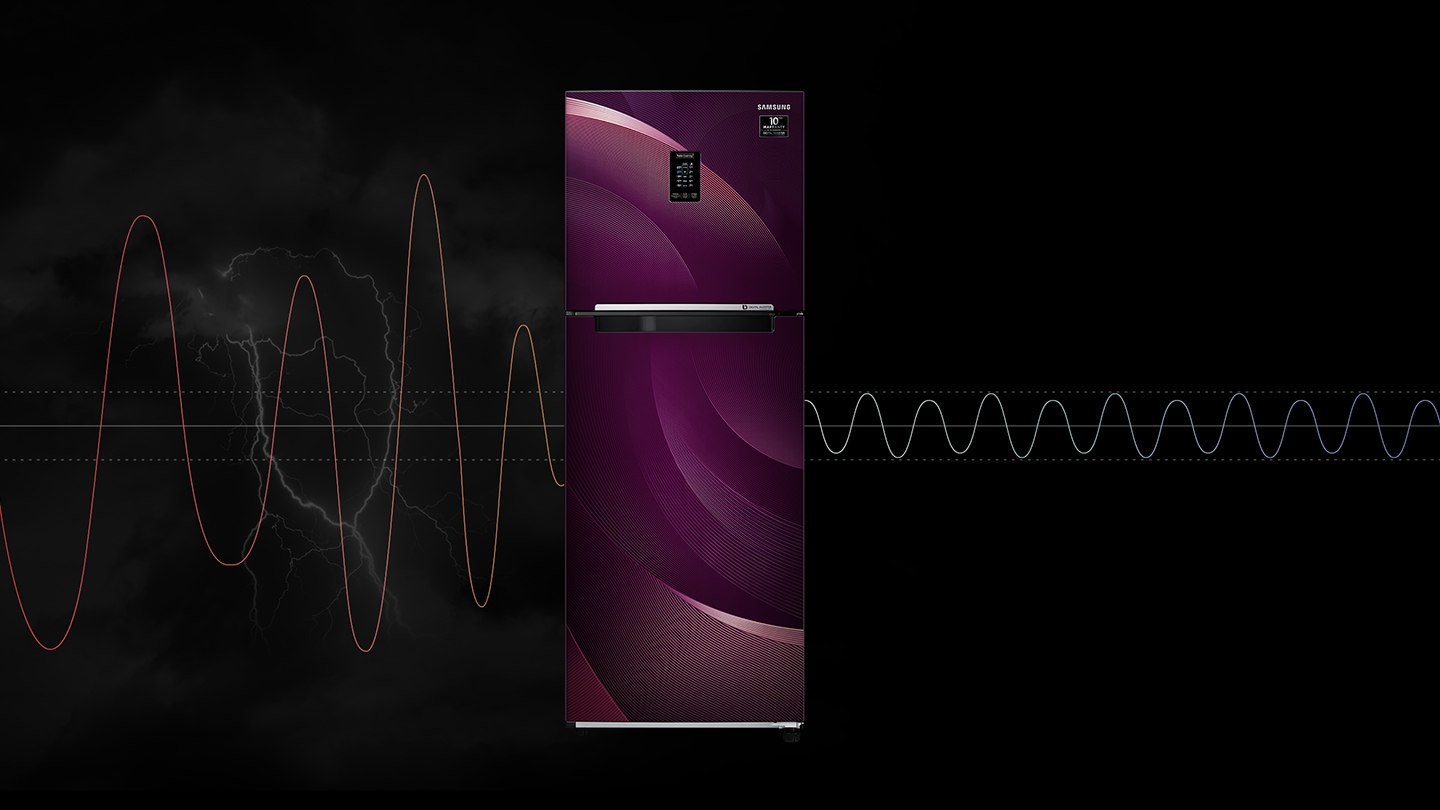 * Stabilizer Free Operation range: 100 ~ 300V.
All the ice you need
Movable Ice Maker
Make sure that you always have plenty of ice to stay cool when it's warm. A simple twist of the Movable Ice Maker is all it takes to dispense a large quantity of ice. But when the seasons change and there's not much need for ice, you can easily remove it and create more space in the freezer.
Energy-saving alarm
Door Alarm
Stop worrying about wasting energy if you forget to close the fridge door. The Door Alarm will sound a very audible alarm if the door is not shut properly or accidentally left open for more than 2 minutes. So it can be closed quickly to minimize the loss of cool air and waste of electricity.
Odor eliminator
Deodorizing Filter
Keep the inside of the refrigerator deodorized and preserve the original flavor and aroma of food for longer. The built-in natural fiber Deodorizing Filter eliminates strong smells as the air is continually passed though activated carbon filters. So you don't need other odor fighting solutions.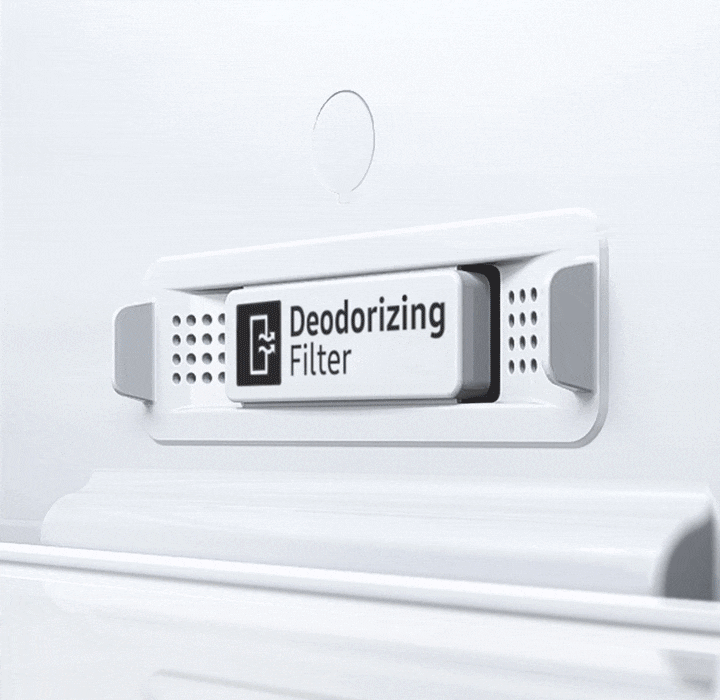 See in every corner
LED Lighting
Find ingredients more easily, and save space and money with LED lighting. It's slimmer, brighter and more energy efficient than conventional lighting. It brilliantly illuminates every corner with a softer, more comfortable light, while creating more storage space and reducing electricity bills.
Catalogue
Frost Free Refrigerators 2020
Download the product catalogue to know more about the benefits and features of Curd Maestro™.
310 ℓ

Net Total(Liter)

336 ℓ

Gross Total(Liter)

600 mm

Net Width(mm)

1715 mm

Net Case Height with Hinge(mm)

672 mm

Net Depth with Door Handle(mm)

59 kg

Net Weight(kg)
Capacity

Net Total(Liter)

310 ℓ

Net for Freezer(Liter)

72 ℓ

Net for Refrigerator(Liter)

238 ℓ

Gross Total(Liter)

336 ℓ

Gross for Freezer(Liter)

88 ℓ

Gross for Refrigerator(Liter)

248 ℓ

Physical specification

Net Width(mm)

600 mm

Net Case Height with Hinge(mm)

1715 mm

Net Depth with Door Handle(mm)

672 mm

Net Depth without Door Handle(mm)

672 mm

Net Depth without Door(mm)

607 mm

Packing Width(mm)

641 mm

Packing Height(mm)

1790 mm

Packing Depth(mm)

709 mm

Net Weight(kg)

59 kg

Packing Weight(kg)

64 kg

Cooling Feature

No Frost

Yes

Multi Flow

Yes

Refrigerator Feature

Deodorizer

Yes

Number of Shelf (Total)

3 EA

Easy Slide Shelf

Yes

Shelf Material

Tempered Glass

Number of Vegetable&Fruit Drawer

1 EA

Number of Door Pocket

4 EA

Egg Container(Egg Tray)

Yes

Fresh room 

Yes

Curd Maestro

Yes

Interior LED Light 

Yes

Freezer Feature

Ice Maker

Twist

Material of Shelf

Plastic

Number of Shelf (Total)

1 EA

Number of Door Pocket

2 EA

Exterior Feature

Display Type

External

Door Handle

Recess

Colour

Real Stainless

Energy
Manufacture information

Manufactured by Samsung
Country of origin India

, Vietnam, China, Korea *Country of origin shall be as mentioned on the Product
Payment & Security
Your payment information is processed securely. We do not store credit card details nor have access to your credit card information.