Description
1785 mm
Net Case Height with Hinge(mm)
Twin Cooling Plus™
Moisture-Full Freshness all over the fridge
Only Twin Cooling Plus™ creates a favourable environment for preserving fresh food in the fridge with 70% humidity, compared to 30% in a conventional Frost Free Refrigerator. So it keeps ingredients fresh for longer without drying out.
Deliciously tasty, odor free frozen food
The Twin Cooling Plus™ system cools the compartments separately to stop unexpected odors spreading from fridge to freezer. So frozen food retains more of its original flavor.
5 Conversion Modes on demand
Provides the ultimate in flexible storage. Easily convert your freezer into a fridge to keep all the fresh food you need to store for different seasons or special occasions. Or switch to off mode to save energy, depending on spec.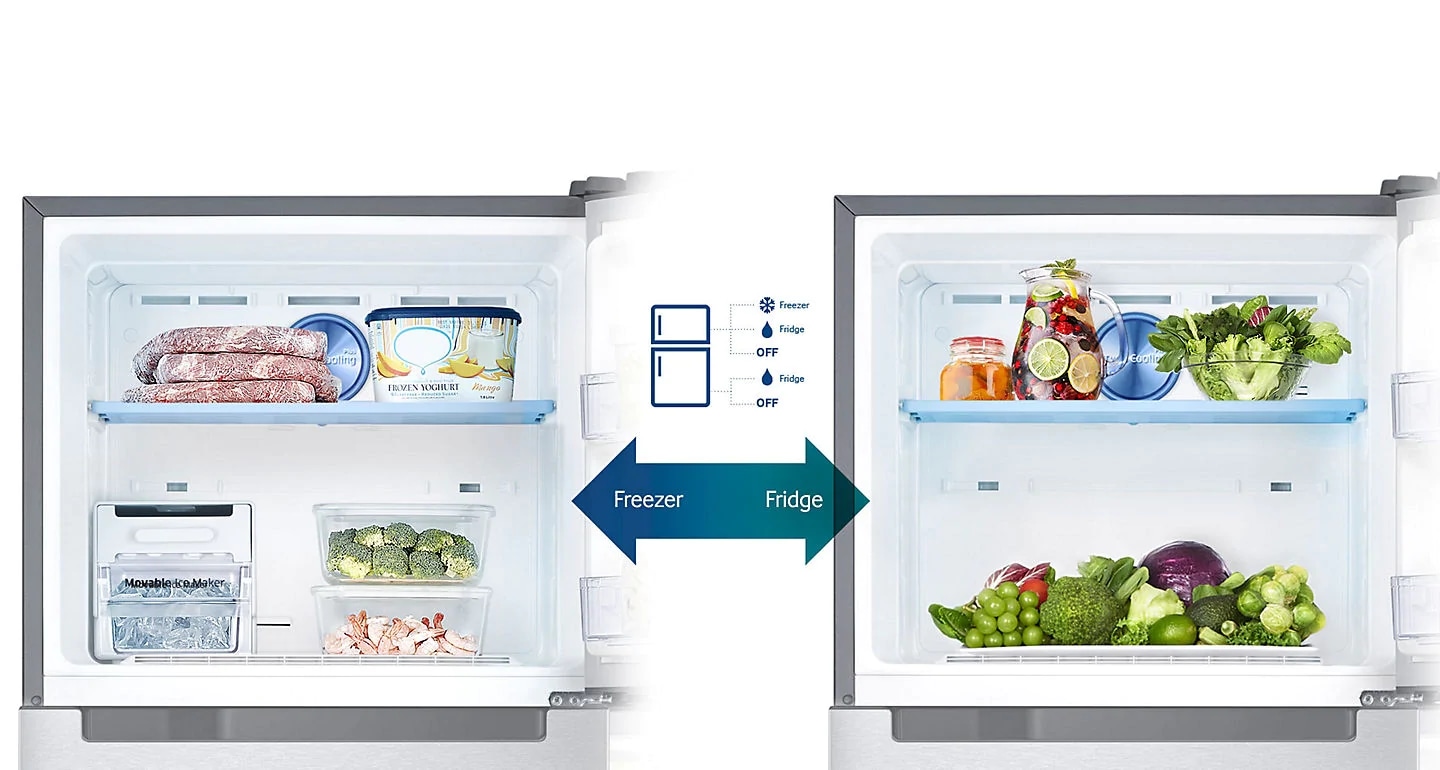 Coolpack 12 Hours
The Cool Pack feature in the freezer of this Samsung refrigerator comes to the rescue during power outages. It keeps food frozen up to 12 hours*, maintaining a temperature below 0 ¡ÆC.
*Result basis on Samsung internal lab test conditions. Individual results may vary.
Digital Inverter Technology
Works longer more quietly & uses less energy
Digital Inverter Technology automatically adjusts the compressor speed in response to cooling demand across 7 levels. It uses less energy, minimises noise and reduces wear and tear for longer-lasting performance.
Smart Connect Inverter (Automatic)
Now, you can connect the refrigerator to your Home Inverter without any worries. Go ahead and enjoy uninterrupted cooling to keep your food fresh even during power cuts. Connect Inverter enables the refrigerator to work even when there is a power cut in the house and the refrigerator has switched to back up power.
10 Year Warranty
Enjoy the peace of mind that comes with a 10-year warranty on the compressor of Samsung refrigerator powered with Digital Inverter Technology.
Anti-Bacteria Protector
Keeps air hygienically clean and fresh
An Anti-Bacterial Protector keeps the fridge clean and hygienic. Air is passed through an Activated Carbon filter, so it is constantly sterilized and deodorized, while an anti-bacterial mesh eliminates bacteria.
384 ℓ
415 ℓ
675 mm
1785 mm
668 mm
71.6 kg
Capacity

Net Total(Liter)

384 ℓ

Net for Freezer(Liter)

89 ℓ

Net for Refrigerator(Liter)

295 ℓ

Gross Total(Liter)

415 ℓ

Gross for Freezer(Liter)

112 ℓ

Gross for Refrigerator(Liter)

303 ℓ

Physical specification

Net Width(mm)

675 mm

Net Case Height with Hinge(mm)

1785 mm

Net Depth with Door Handle(mm)

668 mm

Net Depth without Door Handle(mm)

668 mm

Net Depth without Door(mm)

581 mm

Packing Width(mm)

706 mm

Packing Height(mm)

1840 mm

Packing Depth(mm)

692 mm

Net Weight(kg)

71.6 kg

Packing Weight(kg)

78.3 kg

20/40/40H (Container)

24/51/70

Cooling Feature

Twin Cooling Plus

Yes

Smart Conversion

5 Mode

Power Cool Function

Yes

Power Freeze Function

Yes

No Frost

Yes

Multi Flow

Yes

Refrigerator Feature

Deodorizer

Yes

Number of Shelf (Total)

4 EA

Shelf Material

Toughened Glass

Number of Vegetable&Fruit Drawer

1 EA

Number of Door Pocket

4 EA

Egg Container(Egg Tray)

Yes

Fresh room

Yes

Interior LED Light

LED

Multi Storage Box

Yes

Big Guards

Yes

Freezer Feature

Ice Maker

Twist

Shelf Material

Cool pack

Number of Shelf (Total)

1 EA

Number of Door Pocket

2 EA

General Feature

Door Alarm

Yes

Refrigerant

R-600a

Lock & Key

N/A

Compressor

Digital Inverter Compressor

Exterior Feature

Display & Control (Fridge and Freezer)

External

Door Handle

Recess

Colour

Easy Clean Steel

Water Dispenser

No

Energy
Payment & Security
Your payment information is processed securely. We do not store credit card details nor have access to your credit card information.